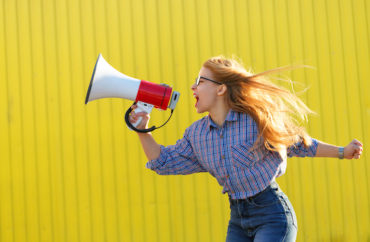 Students have lodged themselves in buildings, disrupted campus life
A host of colleges have been hotbeds of "occupation" activism over the past few years, in which students effectively take over campus buildings, disrupt activity and refuse to leave before their demands are met.
The College Fix has been reporting on such protests for several years. They have taken place at schools across the country, including Harvard, Johns Hopkins, Syracuse, Ohio University and Sarah Lawrence College, among numerous others.
At Syracuse University, the student-led movement #NotAgainSU has this year been engaged in significant occupation-style protests on campus. In February the school suspended over 30 students for occupying the Crouse-Hinds Hall administrative building and refusing to exit after closing hours, though the school quickly reversed those suspensions several hours later.
The "black student-led movement" is centered around exposing Syracuse's alleged racism and "complicity with white supremacy," according to the movement's Twitter account and its website.
The student movement has circulated a series of demands on its website, including race-based roommate options, additional campus diversity counselors, new multicultural offices, and the request of a minimum $1 million be put towards a campus diversity curriculum.
The protesters continued their occupation even after the school was shut down due to the coronavirus epidemic, though they ultimately ended their efforts after securing a meeting with the school's president.
Representatives from the student movement did not respond to The College Fix's queries asking whether or not the group was confident its efforts were going to work and its demands were going to be met. The Syracuse media relations department also did not respond to a request for comment.
Multiple occupations on Harvard's campus
Last December, meanwhile, students at Harvard University occupied a school building twice in two weeks as part of an effort to institute an ethnic studies department at the Ivy League university. The students lodged themselves first in the school's University Hall and then in its Office of Admissions and Financial Aid.
Activists chanted slogans such as: "After you admit us don't forget us!" and "Want diversity? Teach our histories!" At one point the university's Dean of the College stopped by the protest to "tak[e] notes," according to The Harvard Crimson
More recently, in February a group known as Divest Harvard, a student club committed to Harvard's divesting itself of fossil fuel concerns, occupied University Hall. Inside the administrative building, organizers handed out poems about divestment and statements from Harvard faculty who support the effort.
The protesters at the time gave the university an "ultimatum" to fulfill their demands by Earth Day or else face an "escalation" of tactics.
"When our air is under attack, what do we do? Stand up, fight back," the group chanted, as well as: "Harvard, step off it, put people over profit."
Divest Harvard did not respond to requests for comment from The Fix, including two emails and an Instagram message.
Harvard law enforcement would not remark on the occupation-style protests. "It is the longstanding policy of the Harvard University Police Department not to comment on staffing, equipment, operations, and/or security measures," police spokesman Steven Catalano said in an email to The Fix. The school's media relations office also did not respond to requests for comment.
Demand for professor's tenure review
Sarah Lawrence College of New York has seen similar activity. Last March, the Diaspora Coalition, a pro-students of color group, occupied the school's Westlands administrative building. During the occupation, activists demanded the school provide students on campus with a minimum of two free meals a day, free laundry detergent and softener for all dorms, free summer storage, annual diversity training, minority therapists, and special no-whites-allowed scholarships.
Protesters also demanded that the school place under tenure review a Sarah Lawrence professor, Samuel Abrams, who had written an article noting the overwhelming left-wing bias of college administrators. The activists had demanded to participate in Abrams' tenure review process.
The school's media relations office did not respond to a query asking what became of the protesters and if the school met any of their demands. The Diaspora Coalition also did not respond to multiple requests for comment.
Dozens of arrests at one school
In February of 2017, activists at Ohio University occupied the fourth floor of the campus's Baker Center, demanding that the school's president denounce both capitalism and the Dakota Access Pipeline.
That confrontation ultimately ended with mass arrests. The university deemed the occupation unlawful, arguing in a statement on Facebook that the protesters "were given ample opportunity and time to relocate" before being taken into custody.
"Approximately 70 protestors were arrested and charged with criminal trespass," the university stated in the post.
The school in its policy book specifically forbids "activities that substantially and materially disrupt important university operations." It notes that a disruptive incident "often can be determined only at the time of an event."
Campus spokeswoman Carly Leatherwood told The Fix via email that the university "supports diversity of expression, as evidenced in our policies, which affirm the importance of free speech on our campuses."
"We are a public institution, and we take our First Amendment responsibilities very seriously by respecting the rights of all persons to express themselves in a lawful manner. To that end, we welcome lawful expression of differing viewpoints on our campuses, as broadly provided for in our policies," she added.
Tim Ryan, a lieutenant with the campus police department, stressed a similar ethos.
"Everyone has the right to freedom of expression as long as that activity is being conducted within the confines of the law. OUPD officers work hard to ensure everyone's Constitutional rights are protected in any given situation," he told The Fix via email.
Activists chained doors; not charged with anything
In at least one case protests have lasted for weeks. At Johns Hopkins University in May of 2019, students occupied an administrative building for 37 days by effectively creating a blockade of the space, at one point chaining all entrances to the building shut and preventing anyone from entering. The incident ended with seven students being arrested.
The university at the time said that the occupation involved "major safety risks" and "severely disrupted university services," though prosecutors ultimately opted to not pursue charges.
JHU Sit-In, the group that led the protest, initially told The Fix that they would "love to contribute" a comment once they garnered a "consensus" for a response. The group later replied that they would not be commenting, claiming that they "prefer to contribute to impartial, independent sources as much as possible," though they did not explain what they meant by that.
Reached for comment, Johns Hopkins campus spokeswoman Karen Lancaster referred The Fix to the school's official statement on the event.
"We had hoped to find a constructive means to resolve this increasingly dangerous situation, and we are disappointed that the decisions of the protesters necessitated a law enforcement response. We remain open to dialogue and will continue to support our students as we find ways to move forward together," the school said at the time.
MORE: Harvard climate activists continue divestment campaign by occupying a building
IMAGE: Vagengeim / Shutterstock.com
Like The College Fix on Facebook / Follow us on Twitter