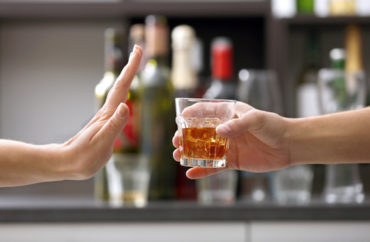 UPDATED
Punishing Good Samaritans
Five years ago, journalist Caitlin Flanagan explained in The Atlantic how national fraternities essentially set up their chapters for failure.
It boils down to legal liability when something goes wrong, usually involving alcohol. The national organizations write ludicrously strict alcohol policies that intentionally bear no resemblance to what is likely to happen at a typical fraternity social.
After a yearlong investigation into a system built on "shifting the blame," this is what Flanagan concluded:
When something terrible takes place—a young man plummets from a roof, a young woman is assaulted, a fraternity brother is subjected to the kind of sexual sadism that appears all too often in fraternity lawsuits—any small violation of policy can leave fraternity members twisting in the wind.
I recalled this bait-and-switch system when reading about Sigma Phi Epsilon revoking the charter from its chapter at West Virginia University, whose administration has its own issues with scamming Greek-letter organizations.
MORE: WVU denies making 'end run' around due process for fraternities
The Daily Athenaeum reports that the national organization determined that the chapter "violated fraternity and University alcohol and risk management policies."
How did it know? Good Samaritans in the fraternity contacted emergency medical services when two guests – not fraternity members – showed signs of drinking too much.
If this sounds like the Greek life version of "snitches get stitches," that's because it is. The backstory, according to the newspaper:
In August, the national headquarters and the University placed the chapter on a cease of operations after finding the chapter planned an event with common source alcohol that violated such policies. [To understand what this means, search Flanagan's article for "third-party vendor" and "BYO event."]

While under this cease of operations in October, the chapter hosted an unsanctioned event that was in violation of policies and resulted in a guest being transported to the hospital for overconsumption, according to the [Sigma Phi Epsilon national] statement.
MORE: WVU punishes sorority for 'emotional distress to a person of color'
The now-revoked chapter has its own story, which accuses the national organization of punishing it for following WVU protocol.
"In spite of our exceptional record" – high GPAs, large membership, and philanthropy for groups including hurricane and flood victims – "we have been met with nothing but disdain and mistreatment at the hands of our National Headquarters," they wrote in a tweeted statement Monday.
Reminiscent of Flanagan's description of national organizations imposing policies that they know chapters will inevitably violate, the WVU chapter says the national leaders adopted a new "substance-free facility bylaw" that ironically increased its insurance and membership dues.
Not only that, but the bylaw functionally banned social activities at the chapter's house, running counter to its purpose as a "SOCIAL Fraternity."
MORE: Penn fraternities can be fined $500 for 'insensitive messages'
From the West Virginia Beta Chapter at West Virginia University. pic.twitter.com/iYSHP8TQu3

— Sigma Phi Epsilon (@SigEpWVBeta) October 14, 2019
The chapter statement gets vague here, but the national fraternity does not appear to have laid out the specific violations in any greater detail, so here's the former's version:
On October 3rd, 2019, the brothers were concerned for the welfare of two of our guests. They had shown signs of being intoxicated to the point of worry, and [emergency medical services] was alerted immediately by the brothers of our fraternity.
This reminded me of Duke University's morally hazardous response to a similar situation in 2015. When a group of underage students – already intoxicated – tried to crash a closed party hosted by the Alpha Epsilon Pi chapter, they foisted their dangerously inebriated friend on the fraternity brothers and snuck in.
The brothers called EMS and saved her life. Guess whom Duke punished.
I'm not saying the WVU chapter's behavior on this disputed night was necessarily comparable to the selflessness of the Duke chapter four years ago. We don't know the details of this "unsanctioned event" or how the two guests became "intoxicated to the point of worry."
Given the eggshells the chapter was already walking on, though, it's hard to believe any brother would knowingly serve alcohol to their friends in the house. And the chapter is correct that it was following university policy by calling EMS to evaluate the condition of the two guests.
By revoking the WVU charter, Sigma Phi Epsilon is broadcasting an unmistakable message to its remaining chapters: Hide things that make us look bad, or else. Don't try to explain, however reasonable your explanation.
Snitches get stitches.
After failing to publicly post its own side of the story, the Sigma Phi Epsilon national organization contacted The College Fix Tuesday afternoon to lay out why it revoked the WVU charter. It publicly responded to the chapter's claims 18 minutes later.
It provided a press release dated Oct. 11 that carries more than a whiff of resentment toward the chapter for wasting the national organization's time:
Over the past three years, SigEp staff members have visited West Virginia Beta 18 times and spent more than 48 days in Morgantown to support the chapter in developing positive culture, recruiting quality men and implementing the Balanced Man Program.
As we detailed in our work with you and in the notice of closure, the WV-Beta charter was revoked bc of a pattern of violations, our concern for the safety and well-being of members and guests, and your unwillingness to implement change. pic.twitter.com/RJEUW96uOC

— Sigma Phi Epsilon (@officialsigep) October 15, 2019
"In the last 18 months, time and time again, the West Virginia Beta Chapter has violated the law and Fraternity and University policies, bringing both member and guest safety into question," says the statement.
It cites multiple police reports, a "slush fund," and the chapter's "self-imposed" sanctions "including social probation" to show its commitment "to shift its culture":
In January 2019, members were found to be drinking during a Ritual service after the chapter tried to mislead staff that the service was not taking place. Headquarters staff and alumni worked with the standards board to hold these individuals accountable.

In February 2019, the chapter held an off-campus social event — during its self-imposed social probation — and received a fire code violation. Additionally, staff became aware that members regularly posted photos of themselves drinking in their facility. With a pattern of violations evident, the Headquarters staff ceased operations, conducted an investigation, re-established expectations, and worked with the chapter to develop a plan to move forward.
The national organization said 50 chapter members "who could not commit to a safe SigEp
experience – one not based around alcohol consumption" – resigned in the prior academic year. Two months ago, "the chapter planned and staged a party with six kegs in the parking lot next to the chapter facility" that was shut down by police.
The timeline conflicts between SigEp national and the chapter when it comes to the "unsanctioned social" event. Both the chapter and the campus newspaper say it happened in October, but the national statement says it was "less than a month" after the parking-lot party, meaning no later than September.
For the first time in its statement, the national organization slips into the passive voice about how it learned about the event's details:
It has been reported that during this event, members brought guests/dates into the chapter facility, where members told their guests that they would need to split a bottle of hard alcohol and finish it before they could leave. Two 18-year-old female guests became intoxicated to the point of reportedly going in and out of consciousness and vomiting. Concerned for her health, one of the guest's female friends called 911, emergency services were dispatched, and the women were taken to the hospital. We have received reports that some members asked her not to contact the authorities.
A self-identified member of the chapter responded on Twitter that the statement was wrong about who called EMS – "in fact OUR brother called."
Echoing Flanagan's point about national organizations imposing policies that nullify the attraction of a social fraternity, he continued: "As recruitment chair for a year, and talking to over 400 people from my school, I did not recruit a single person from advertising dry" (the substance-free facility bylaw).
Another self-identified member explained why it couldn't go independent: "Our national chapter contacted every WVU fraternity" in the Independent Interfraternity Council and Interfraternity Council, which are separate bodies, "and demanded not to take us or they would pursue some sort of lawsuit. Our hands were tied."
UPDATE: After this post was published, the Sigma Phi Epsilon national organization provided a press release to The College Fix explaining the alleged violations that led it to revoke the WVU chapter's charter. It did not publicly post a statement before Tuesday afternoon, when it responded to the chapter's tweeted statement.
MORE: Duke judged frat members guilty for saving drunk girl's life
MORE: Fraternity suspended for taking fainted recruit to hospital
MORE: Fraternity pledges sue UT for punishment after flimsy investigation
IMAGE: Africa Studio / Shutterstock.com
Like The College Fix on Facebook / Follow us on Twitter