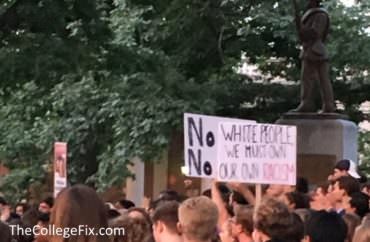 Officials are looking 'at all options' for statue's future
UNC-Chapel Hill officials have set mid-November as the deadline for a decision about Silent Sam's fate — but it appears based on officials' recent statements that the controversial statue, a memorial to the Confederate soldiers who lost their lives in the Civil War, will not be reinstalled at its original home on campus.
The memorial was aggressively toppled by a mob of campus activists in August who decried the statue as a symbol of current and past racism and white supremacy. Since then, the monument has been kept hidden in an undisclosed location while officials debate its future.
But for now, leaders are staying tight lipped about the controversy, which prompted a massive rally at UNC Chapel Hill late last month that included a few arrests, as well as vulgar anti-police chants by activists who do not want the statue back on campus. However, statements from officials indicate the statue will likely be reinstalled on campus, although not at its original home in McCorkle Place.
The College Fix made email inquiries to a majority of the University of North Carolina at Chapel Hill's Board of Trustees. Most ignored the requests for comment. A few referred The Fix to Trustee Haywood Cochrane, the board's chair, who ignored two emailed requests for comment.
Trustee Allie Ray McCullen replied that all he has been told is the statue is in a safe location. McCullen is the official who, prior to the statue's toppling, called for greater security around Silent Sam and described protesters as "criminals" and "entitled wimps."
In late August, a member of the UNC Board of Governors — which oversees all the universities in the system — said that the monument would be reinstated as required by state law. That board member, Thom Goolsby, did not respond to a request from The College Fix seeking comment this month.
However, the UNC Board of Governors passed a resolution in late August that indicates they are open to a proposal for reinstalling Silent Sam to a place that "protects public safety, preserves the monument and its history, and allows the University to focus on its core mission of education."
By using the term "protects public safety," the statue might not be returned to its original location since it has been the target of repeated protests, vandalism, outrage and uproar on campus for the last several years, thereby disrupting the school and causing angst and accusations of white supremacy.
In a statement released after the resolution was passed, UNC Chapel Hill Chancellor Carol Folt said officials will "look at all options" for the statue's future home, "including one that features a location on campus to display the monument in a place of prominence, honor, visibility, availability, and access."
Underscoring that, a statement posted on Aug. 31 by Chancellor Folt expressed that the statue is most likely not going back to its original mount, which was situated on a main quad toward the front of campus.
"Silent Sam has a place in our history and on our campus where its history can be taught, but not at the front door of a safe, welcoming, proudly public research university," Folt stated.
"In forum after forum, the stories told by so many reveal the pain and hurt that come from that speech [a racist dedication from the statue's installation], and from the presence, at the front door of the University they love, of the monument they associate with it," she stated.
Folt and the UNC Chapel Hill Board of Trustees have been directed by the board of governors to develop a plan for the monument's final location by November 15.
Other campuses that have moved controversial historic monuments over racism accusations include Pepperdine University, which in early 2017 removed a statue of Christopher Columbus from its campus in California. Officials pledged to install it on its Florence, Italy campus. They have yet to do so.
In 2015, the University of Texas at Austin removed a statue of Confederate States of America President Jefferson Davis from its main mall. Two years later, in 2017, it was given a permanent home on campus inside the Briscoe Center.
In 2015, Saint Louis University moved a statue that depicted famous Jesuit Missionary Pierre-Jean De Smet S.J. praying over two American Indians from a spot outside the university's Fusz Hall to a location inside the university art museum. The move came after students and faculty complained that the statue symbolized white supremacy and colonialism.
In 2016, the University of Wisconsin-Stout relocated two murals of Native Americans that depicted "interactions between white traders and First Nations people" that the school feared would have a "potentially 'harmful effect' on students and other viewers." They reinstalled the paintings in less visible rooms on campus.
MORE: Berkeley Law school moves to rename building over racism concerns
Like The College Fix on Facebook / Follow us on Twitter