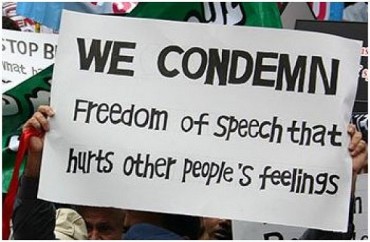 Wanted to form an 'advocacy coalition' to get government to forbid 'hate speech'
The vice president of the University of Illinois Student Government, or ISG, has tendered her resignation because the school will not "take a stand and prohibit hate speech."
Vindhya Kalipi, a junior studying political science and statistics, made that point in a student government Instagram post put up on October 10.
Kalipi was not pleased about the appearance of Matt Walsh on his "What is a Woman?" tour at which he said challenging transgender ideology is "the hill he is 'willing to die on'" and that gender transitioning is "castrating" children.
In its statement, the ISG said Walsh's remarks were "hateful," "wrong" and "induce[d] pain for many people."
It also noted that given her beliefs, Kalipi (pictured) "talked to administrators and looked through existing laws and regulations" to ultimately discover there is no First Amendment exception for "hate speech."
Kalipi wanted the ISG to "form an advocacy coalition" to work to change this long-held free speech tenet "at the government level" — which ISG President Garrett Forrest opposed.
"President Forrest agrees with the various Supreme Court rulings establishing that even hate speech is protected," the statement said. "Beginning to chip away at any type of speech […] may lead to a society in which a wide swath of speech becomes restricted."
The Daily Illini notes that the United Nations "mostly defines" hate speech as an "offensive expression […] which could threaten social peace."
MORE: Message advocating boycott of Michigan State U's diversity training called 'hate speech,' 'violence'
U. Illinois Professor Emeritus in Media Steven Helle pointed out that every speech restriction attempted by UI in the past ultimately was deemed unconstitutional.
"If we want to regulate hate speech, it raises a question of what exactly 'protection' means," Helle said. "Do we protect speakers or receivers?  It can't be both."

Kalipi said she believes the latter — protection means preventing the identity of certain groups from being diminished, she said.

"I don't think it's necessarily disagreeing with what is being said, so much as it is protecting people," Kalipi said.

Because of her ideological differences, Kalipi decided to resign. She said that ISG missed an opportunity to take a stance against hate speech.

She also disagreed with how the University handled Walsh's appearance because "there was no mass email sent out affirming the LGBTQ community" or support being shown by the administration.

Kalipi said she knew many people who said they felt negatively affected by Walsh's appearance which played a big part in taking a stand in front of ISG.
Note that Kalipi said "preventing the identity of certain groups from being diminished" (emphasis added). Such an approach would mean it is perfectly (and legally) acceptable for UI to ban someone like Matt Walsh … but to give $35,000 to Ibram Kendi for a 60-minute confab.
This is the same Ibram Kendi who was concerned about his daughter playing with a "blue-eyed white doll," said "most organizations and institutions" and the term "legal vote," are racist, called white parents who adopt black children "colonizers" and linked the Second Amendment to the "freedom to enslave."
MORE: New York bill would block funding for student groups that 'indirectly' allow 'hate speech'
IMAGES: Sam Graham/Flickr.com; Linkedin screencap
Like The College Fix on Facebook / Follow us on Twitter