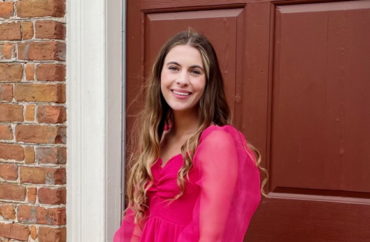 Weaker students would cave under similar situations
Christian college students continue to face attacks on their faith and conservative beliefs, but many have stood firm despite pressures to cave.
Students and some religious universities were willing to use their voice to defend their beliefs on life, the sanctity of marriage and their faith in general.
Christian pro-life student Skylar Culbertson faced down the mob on her campus after she and her pro-life group made the correct statement that men cannot have babies. "As a result of being a conservative voice on campus over the last two years, I've been harassed by my peers online and in person, and some have even broadcast my identity online to invite more harassment," Culbertson (pictured) wrote recently in an essay for The College Fix.
"I've been censored from showing pictures of the reality of abortion at on-campus events," Culbertson wrote. "Our student pro-life group has seen our flyers routinely torn down and vandalized and even had urine thrown at us."
"Between my growing passion for speaking out for the unborn, and my realization that many of my professors were trying to indoctrinate me rather than teach me, I become more and more conservative," Culbertson wrote. "Now I am one of the most outspoken pro-life voices on campus. I'm known as that girl, the one who will shout from the rooftops that abortion is murder. I wish more of my fellow students who agree would join me."
"Catholic backlash" was to blame for a creepy "Sex in the Dark" event at Purdue University being postponed, according to the campus newspaper. Leaders with Boilermaker Catholics helped push back against the event in November 2022, as the Purdue Exponent reported. They did not feel that the event was beneficial to students, given the problems of premarital sex.
A Christian university also used legal firepower to fight back against discrimination by LGBT activists on an Arizona school board. Arizona Christian University saw a teaching partnership end when a "bilingual, disabled, neurodivergent queer black Latina" and her peers cut ties with the school because of its Christian beliefs.
The school board is now facing a federal lawsuit from Christian legal powerhouse Alliance Defending Freedom.
Students continue to face attacks – even at Christian universities.
For example, LGBT activists called on Catholic DePaul University to "eliminate" a Christian group that correctly cited the Bible's admonition against homosexual behavior.
And conservative group Turning Point USA pushed back against Catholic Saint Mary's College, which openly embraces homosexuality and transgenderism, after it rejected the group because the national TPUSA organization correctly believes there are only two sexes.
Sometimes fighting back can cost a university.
Ratio Christi students started the New Year off nicely with a $25,000 settlement from the University of Nebraska after student leaders denied a request for funds to bring an apologist to campus.
Christian students who stood up for the truth about sex, life, gender and marriage deserve thanks and praise this Easter for not backing down to the mob.
MORE: Franciscan University 'Veritas Society' promotes 'debate' and 'apologetics'
IMAGE: Skylar Culbertson
Like The College Fix on Facebook / Follow us on Twitter