'Come to terms with its participation in abusive and exclusionary practices' 
A North Carolina university that recently made headlines for apologizing for slavery is in the midst of a program that offers a new take on the discipline of classics to make up for its history of "abusive and exclusionary" curriculum.
Launched in September at Wake Forest University, "Classics Beyond Whiteness" is an effort to assist the discipline to "come to terms with its participation in abusive and exclusionary practices that have caused real and lasting harm to communities and students of color," according to the program's description on the university website.
The program was inspired by a previous one, last year's "Classics Beyond Europe," and is a "multidisciplinary and multimedia program including lectures, workshops, film screenings, art projects, a reading group, and a museum exhibit."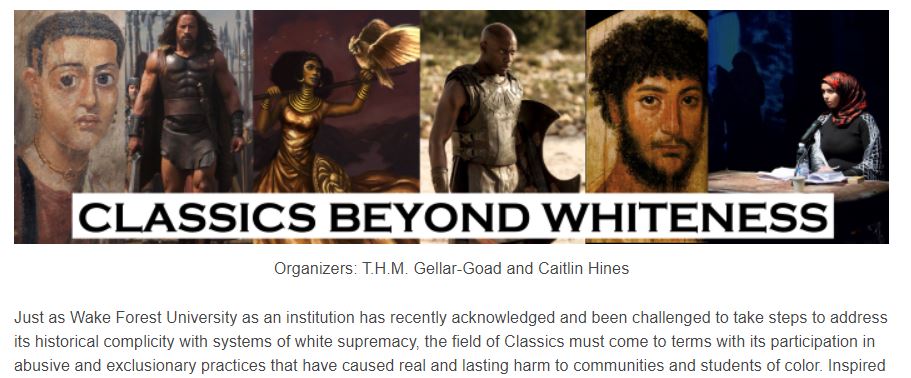 The program's most recent event was a film screening of "Chi-Raq," a film directed by controversial filmmaker Spike Lee, but early in the program it featured a series of book group meetings on "Not All Dead White Men."
"Our program celebrates the unique pedagogical, scholarly, and artistic contributions of Black Classicists, foregrounds the reception of Classical antiquity by artists and communities of color, highlights recent efforts to create a more diverse and inclusive field, and confronts the hateful backlash (both online and in professional settings) that has targeted those efforts," the website description says.
The two faculty members responsible for organizing the program, T.H.M. Geller-Goad and Caitlin Hines, did not respond to inquiries from The College Fix.
In a February article, Wake Forest said that the program and an accompanying class "examines a misleading and damaging tendency to focus on white scholars and perspectives in studies of the ancient Greek and Roman worlds, while excluding black voices."
Quoted in the article, Geller-Goad said that the class is "forging new paths toward a more inclusive, constructive vision of the discipline," adding that "Wake Forest is ready for this, and our students want to be involved." The class had a capacity of 15 students, but 26 signed up, the article says.
"Programming efforts have focused on three goals: Examining the role of classics in modern racial politics, encouraging more people of color to engage with the classics, and raising awareness of the role of race and ethnicity in the classical world," the article adds.
The program is part of a broader pattern toward racial issues at Wake Forest.
Earlier this month, President Nathan Hatch delivered a speech to the university, where he apologized for the institution's role in the slave trade. The school benefited from the sale of African slaves in 1860 that contributed to its endowment.
On April 23, the North Carolina university will cancel classes in order to host an "Inclusive Teaching Conference." The purpose of the conference is to "to allow faculty to participate in a professional development opportunity focused on inclusive teaching practices," a campus spokesperson told The College Fix in January.
The school has been mired in racial controversy dating back to early 2019, when a number of incidents at the college led to protests from student groups over supposed rampant racism on campus.
Wake Forest did not respond to inquiries from The College Fix regarding the "Classics Beyond Whiteness" program.
MORE: Wake Forest University president apologizes for slavery
MORE: Wake Forest to cancel classes for 'Inclusive Teaching Conference'
IMAGE: Anastasios71 / Shutterstock
Like The College Fix on Facebook / Follow us on Twitter