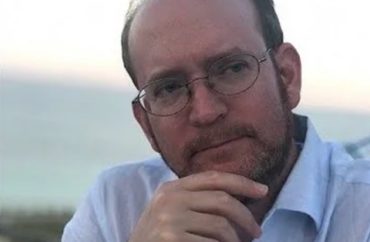 'Over the past two years, I have gained more friends than I lost'
"The canceled are blessed with knowledge of who their friends are," wrote classicist Joshua Katz in the Autumn issue of the intellectual journal Sapir. Katz (pictured) was a tenured classics professor fired by Princeton in May following outspoken criticism of "anti-racist" initiatives and activists on campus, The College Fix reported.
Katz was ostensibly let go for not cooperating with a probe into his sexual relationship with an undergrad 15 years ago, the New York Times reported in May.
"However, he already served out a punishment — a suspension — for the relationship," The Fix stated.
"Katz and [his attorney, Samantha] Harris have maintained in previous interviews that he was targeted for criticizing anti-racist initiatives on campus and rebuking a group of black students activists for employing highly aggressive tactics," The Fix continued.
Katz wrote in his essay that that he has built a new network of generous fellow travelers with whom he can freely speak his mind.
"Over the past two years I have gained more friends than I lost — and these are real friends," Katz wrote. "We do all the things together that friends do, including lifting one another's spirits when there are setbacks and, like normal people, revealing our disagreements and disappointments openly rather than knifing each other in the back."
"It's not only that my new friends are numerous. They are also racially, ethnically, religiously, politically, socioeconomically, and ideologically diverse…And, thank God, they are not all academics."
In a July 2020 Quillette article, "A Declaration of Independence by a Princeton Professor," Katz critically evaluated the demands advanced by his fellow faculty members following George Floyd's death. He took issue in particular with proposals that faculty of color should be rewarded for "invisible work" with "course relief and summer salary," arguing that it would "lead to civil war on campus and erode even further public confidence in how elite institutions of higher education operate."
"Here are some ways in which my life has changed, just like that, over two years ago," following that essay and its fallout, Katz wrote in Sapir.
"Colleagues who used to laugh with me every day no longer acknowledged my existence," he stated. "Professors across the country issued calls for right-minded people to stop citing my publications and for academic journals and presses to refuse to publish anything I might write, effectively obliterating my career."
No doubt, "cancelation is awful," Katz wrote. However, witnessing elite cultural institutions falling victim to cancel culture has led him to "find the greatest pleasure in the company of men and women who lack fancy credentials but who know perfectly well what culture is and value it."
Even more, those who have "gotten in trouble" in recent years — he named philosopher Peter Boghossian, journalist Bari Weiss, geophysicist Dorian Abbot, and legal scholar Ilya Shapiro — "do our best to look out for each other." The canceled have created a "culture of care."
"If you get in trouble, these people and many others on that ever-growing list will help you. More to the point, I will help you," Katz wrote. "I mean this seriously: get in touch with me, and I'll do what I can."
Not only has he made new friends, but cancelation has given Katz  new opportunities — for writing, as scholar-in-residence at the American Council of Trustees and Alumni, with the University of Austin, and in his new job as a scholar at the American Enterprise Institute think tank.
Cancelation may have felt like the end of the world, but Katz found in it a sort of liberation.
"For the first time in years, I feel free to say out loud – with responsible candor – what I believe," he wrote.
MORE: Veteran leftist writer calls cancel culture a serious threat
IMAGE: Benson Center/YouTube
Like The College Fix on Facebook / Follow us on Twitter