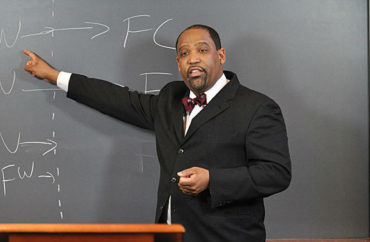 'Dissent is essential but demonization is unacceptable'
Harvard may have thought that it ended the self-declared scandal of its law professor representing disgraced Hollywood producer Harvey Weinstein in its criminal trial.
It fired Ronald Sullivan and his wife Stephanie Robinson, also a law professor, as faculty deans of Winthrop House. Rakesh Khurana, dean of the college, claimed that an unprecedented "climate review" of Winthrop revealed "serious and numerous" concerns about their leadership.
It was obvious to everyone not on the Harvard administrative payroll why they were fired, though: The brass caved to students who claimed Sullivan's representation of an accused rapist made them feel unsafe. (Sullivan bowed out of the criminal trial after its delayed schedule pushed into his teaching obligations.)
But Khurana and his cowardly colleagues may come to regret lynching the first-ever black faculty deans on campus.
Sullivan and Robinson posted a video last week pledging to "help restore academic freedom, reasoned discourse and honor at Harvard College." He told The Boston Globe that their ambitions are even bigger: to create an institution that could work beyond Harvard to reform academia.
The couple makes clear in the video that they love their Harvard Law colleagues, who publicly backed them against administrators. They also "loved" serving Winthrop for the past 10 years "with integrity, with love, with empathy and kindness," Robinson said.
But there's no doubt why they were fired from Winthrop. "Let's be clear: It was my willingness to represent Mr. Weinstein in the first place that prompted a furor and ultimately Harvard's decision to dismiss us as faculty deans," Sullivan said.
"We know this to be true, as does the Harvard community, including its most senior leaders," he continued. "What's at stake here is not my future or ours or even our family's. We will be fine":
What is at stake are the values that underwrite the best traditions of higher education, the very same traditions that have sustained Harvard for nearly 400 years. In America everyone is entitled to a defense, in America everyone is presumed innocent until proven guilty, and in America, everyone is entitled to due process of law under our constitution.
But in "fractious times" such as these, where representing a hated client is grounds for termination, "our central work as scholars and as educators is to foster conditions that enable our students to think critically and engage in conversations that shed more light than heat," he said.
MORE: She got Sullivan fired. Now she's going after the Harvard Lampoon.
'We see this as a much more systemic problem'
Sullivan claimed the "entire world looks for leadership" from Harvard, and when it abandons its commitments, "it undermines its responsibilities and its opportunities." Harvard administrators acted "grossly antagonistic" to norms that make Harvard the "epitome of higher education."
Robinson made a sharp distinction between her and Sullivan's time as Harvard students and the campus climate now, which is "symptomatic of a larger societal problem."
The couple engaged in "vigorous protests" but did not "attack the character of innocents" as student activists, she said: "Dissent is essential but demonization is unacceptable."
There's an "increasing sense" in American society that "feelings and emotions and ad hominem attacks can be, or even should be, substitutes for intellectual argument. They should not," Robinson said.
Education includes "respecting and understanding the views of others," she continued. Harvard "betrays the ambitions of the university and its students, but it quite frankly betrays our academic traditions" as well.
Robinson said her and Sullivan will speak more about their project "in the very near future," though they have yet to post another video on Sullivan's YouTube channel, created less than a month ago.
Sullivan elaborated on the project with the Globe:
"Our firm belief is that universities are doing a disservice to its students to allow them to substitute emotion for rigor," said Sullivan. "And part of our goal is to recenter the intellectual project at the university. It's not just Harvard. We see this as a much more systemic problem. To the degree that we can use what happened with us to impact and change the ways in which universities are educating its students, then we're happy to do that."
He and Robinson also told the Globe they played no role in inciting attacks on their opponents. They did not known in advance that Winthrop House tutors, also black, were planning to file a defamation lawsuit against Gail O'Keefe, the white faculty dean of Eliot House.
O'Keefe had said Carl and Valencia Miller – presumed to be Sullivan's allies – acted "totally unprofessionally and dishonestly" by filing a police report against Sullivan's leading critic, Eliot House resident Danu Mudannayake (below), who also filed a police report against them.
The tutors and Mudannayake, a British Sri Lankan, had accused each other of harassment in a Winthrop House incident involving the Millers' infant child.
Robinson told the Globe that she and her husband had "resolved our dispute with Harvard," declining to talk about any legal settlement. Sullivan also said he didn't tell Khurana he was planning to leave the Weinstein trial, because that "should never have been a condition" on keeping his deanship.
Harvard continues to use careful language to describe the firing of its first-ever black faculty deans. Spokesperson Rachel Kane told the Globe that the "decision not to renew" their contract "was not directly related to the Weinstein representation, but rather due to their failure to fulfill their responsibilities as Faculty Deans at Winthrop House."

Watch the video and read Globe coverage.
MORE: Black tutors accuse Mudannayake of harassing their child
IMAGE: Harvard Gazette
Like The College Fix on Facebook / Follow us on Twitter