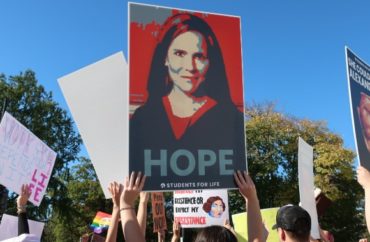 Her ruling set off a chain reaction affecting nearly half the states
Before she became Justice Amy Coney Barrett, the federal appeals court judge was primarily known by the public for having a large family with adopted kids and wearing the pants in the marriage.
It made the freakout over her supposed affinity for imposing a "Handmaid's Tale" dystopia all the sillier.
Lawyers and legal scholars in higher education knew her for a different reason: starting a chain reaction that upended the kangaroo courts that govern Title IX disciplinary proceedings in nearly half the states.
Barrett authored the 7th U.S. Circuit Court of Appeals decision against Purdue University last year that eliminated "doctrinal tests" in judicial evaluations of Title IX claims against colleges.
The only consideration for a court should be whether the alleged facts "raise a plausible inference" that a college in Illinois, Indiana or Wisconsin – public or private – discriminated against an accused student "on the basis of sex."
Her reasoning became adopted by three more appellate courts in just three months, including the 3rd Circuit, which oversees courts in Pennsylvania, New Jersey and Delaware. The 3rd Circuit ruling soon complicated a case against the University of Delaware, and now it's causing headaches for Princeton University.
A day after refusing to dismiss due process and breach-of-contract claims under New Jersey law against the Ivy League school, U.S. District Judge Brian Martinotti reinstated federal Title IX claims he had tossed in February.
MORE: Why defenders of kangaroo courts hate ACB
He granted John's motion for reconsideration in light of the University of the Sciences ruling, an "extraordinary remedy" allowed by courts in Martinotti's district "when the motion is based on an intervening change in the law."
When the judge ruled against John's Title IX claims nearly 10 months ago, the accused student had cited two doctrinal tests for Title IX claims developed by other courts: "erroneous outcome" (wrong decision based on sex bias) and "selective enforcement" (adverse treatment of student, guilty or not, affected by sex).
Given the 3rd Circuit ruling, which was based on Justice Barrett's "plausible inference" standard, John said Martinotti must reconsider his Title IX claims. The judge agreed that the appeals court did more than "clarify" the law – it altered it:
The Third Circuit, in agreement with the Seventh Circuit, saw "no need to superimpose doctrinal tests" on the Title IX statute. The Third Circuit "adopted" the Seventh Circuit's "straightforward" pleading standard and held that, "to state a claim under Title IX, the alleged facts, if true, must support a plausible inference that a federally-funded college or university discriminated against a person on the basis of sex." While parties are "free to characterize their claims however they wish, this standard hews most closely to the text of Title IX." Therefore, the Third Circuit in USciences did, in fact, create a new proposition of law. [citations omitted]
John's lawyer Andrew Miltenberg told The College Fix in an email Thursday: "Coupled with yesterday's decision, this is a great 1-2 blow to Princeton."
And it affirms that the defenders of kangaroo courts were right to be fearful of Barrett's influence when she was nominated for the high court.
The persuasiveness of her Purdue opinion has made it "nearly impossible" for colleges to quickly get Title IX lawsuits by accused students dismissed, one lawyer told The Chronicle of Higher Education at the time.
MORE: Princeton may have breached contract, denied due process to accused student
IMAGE: DCStockPhotography/Shutterstock
Like The College Fix on Facebook / Follow us on Twitter