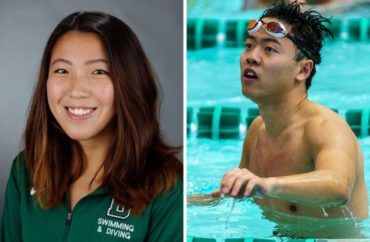 They dismiss claims they're trying to compete with Black Lives Matter
When Dartmouth College eliminated its men's and women's teams for swimming and diving, golf, and men's lightweight rowing in July, it culled nearly half the athletes of Asian descent on campus.
After months of swimming and diving team members seeking answers on how the decision was made to cut their programs – and not trusting official responses – they petitioned the Department of Education to investigate whether anti-Asian bias factored in the decision.
Going to the feds apparently provoked Director of Athletics and Recreation Harry Sheehy to start damage control, Brandon Liao (above, right), captain of the men's swim team, told The College Fix in a phone call that included women's swim team co-captain Margaret Deppe-Walker (above, left).
Sheehy has been meeting with various teams to "justify his decision to cut" swimming and diving while convincing them "he's actually a good person and not out here trying to end these student's athletes careers," Liao said. He called the timing "fishy." Sheehy (below) did not respond to Fix queries to respond to Liao's claim.
Swimming and diving team members wrote to the Board of Trustees Aug. 25, saying their "objections have been dismissed by the Office of Institutional Diversity and the Athletic Department without revealing what factors went into Sheehy's decision-making process."
They want to know "why he chose to end the careers of actual, current Dartmouth students of Asian descent, in favor of vague and amorphous commitments to future student bodies." The letter cites recent findings by the Department of Justice that Yale illegally discriminated against Asian American students in admissions. (DOJ sued Yale earlier this month.)
MORE: DOJ sues Yale for discrimination against Asian, white applicants
"[I]t is reasonable to ask whether similar discrimination was a factor in Dartmouth's decision," the letter continues, saying it was "perfectly foreseeable" that eliminating the five teams meant cutting nearly half the varsity student athletes of Asian descent.
Dartmouth College did not respond to Fix inquiries pertaining to how the institution came to the decision and charges of anti-Asian discrimination by students.
A Department of Education spokesperson told The Fix that as a policy, its Office for Civil Rights cannot "confirm the receipt of complaints in evaluation publicly." It will "inform the institution and the complainant" if OCR decides to investigate.
Dartmouth is the subject of three open OCR investigations, but none include "possible discrimination based on race," the spokesperson said.
Student athletes seeking answers have received some pushback "about bringing up our discrimination concerns in the wake of [Black Lives Matter] and all this other turmoil going on in the U.S. right now," Deppe-Walker said. The swimming and diving team members "don't think that [our issue] is more important than BLM at all."
But both she and Liao believe Dartmouth specifically targeted Asian-American students. "It may not have been the college's primary intention, but it is pretty unignorable that they would be cutting 50 percent of Brandon and mine's population," she said.
MORE: Harvard ruling shows liberals okay with Asian American discrimination
'They all pointed their fingers at someone else'
In his interview with The Dartmouth the week after the cuts were announced, Sheehy claimed the cuts had been planned since fall 2019. President Phil Hanlon wanted a 10 percent reduction in student-athlete admissions, after which no further cuts in athletic programs would be necessary, he said: "I'm positive of it."
The college already had an "institutional budget deficit," according to the newspaper, when COVID-19 hit. That created "the perfect storm for athletics," Sheehy said, but even without COVID-19, the college might have still gone through with cutting five of its 35 varsity sports.
The administration portrayed its decision, which cut 110 athletes, as intended to provide "more flexibility in admissions."
Swimming and diving team members were "blindsided" with the cuts in a July 9 Zoom meeting, Deppe-Walker told Swimming World. "It's not just the athletes who were affected" that weren't sought out for advice, Liao told The Fix: "None of the students at the entire school were consulted."
As a result of the cuts, "our best swimmer transferred," while some incoming freshmen took a gap year, he said. Deppe-Walker said some of her team members have been invited to walk on to the row team.
The seniors plan to stay put for the most part, but many freshmen and sophomores are likely to look elsewhere. Liao and Deppe-Walker will continue to take remote classes at Dartmouth, with Liao still training for the 100-meter breaststroke race at the Canadian Olympic Trials.
He believes that the trustees played only a small role in the decision, with Hanlon and Sheehy largely responsible.
"When we reached out to the trustees and the Alumni Council" in the immediate aftermath of the cuts, Liao recounted, "they all pointed their fingers at someone else, and most of them pointed directly at the administration." But even within the administration "there were people who didn't know about it until it was announced publicly," he said.
Swim and dive team members staged a protest on campus in July, dropping more than 800 pairs of goggles on the lawn to represent the number of children who have received free swimming lessons from members.
MORE: Yale denounces feds for 'hasty' two-year Asian discrimination investigation
They received support from 20 other Dartmouth athletic teams, scolding President Hanlon and Sheehy for cutting the five teams "unilaterally" without inviting their input on the college's problems.
"We believe providing transparency into decision-making processes would have invited students and alumni to help identify better solutions than what was arrived at in secret," the letter says. It urges the college to "open a dialogue" with the students and "find the courage to rethink their decision."
Liao and Deppe-Walker claim that Dartmouth has been actively suppressing their efforts for greater transparency, however.
"We've been trying to get meetings with people within the department about the decision and we haven't gotten any emails back," Liao said. That includes their failed attempt to meet with one of Dartmouth's chairmen on diversity; three other staff members were copied on the email.
Swim alumni and parents were promised a meeting "in a couple weeks," but "that was a month and a half ago," Liao added. "I send emails to members of the athletic department every day and I have not heard back from any of them," Deppe-Walker said: The silencing effort is "subtle."
Liao believes that one of the heads of the athletic department, possibly Sheehy, "told all of the faculty in the department to not respond to our emails."
Deppe-Walker said she had "gotten notifications that I've been blocked by some of" the athletics staff. She later clarified in an email that she has been receiving "bounce back" emails from two trustees, Jeffrey Blackburn and James Jackson, as well as Alicia Blumenthal, assistant sailing coach, and Kelley Sullivan, assistant coach of the women's rugby team.
The Fix received failed delivery messages when it emailed Blumenthal and Sullivan, saying the addresses "couldn't be found," and could not find contact information for Blackburn. Jackson passed away in September.
MORE: Hundreds rally against Harvard for discrimination against Asian Americans
Want feds to pry out 'demographics, especially for sports teams'
Swimming and diving team members first publicly made the anti-Asian charge in their Aug. 25 letter to the trustees, but they suspected race was a factor a month earlier, Liao told The Dartmouth. Diver Bella Lichen said they surveyed varsity teams to determine that nearly half the Asian-American athletes had been cut – more than 30.
The disparate impact of the cuts on Asian-American athletes "serves only to perpetuate anti-Asian prejudices" that were on the rise in the wake of the COVID-19 pandemic, the letter said. Deppe-Walker told The Fix she has routinely experienced microaggressions this year: "When I'm at the gym people stare at me," and one person last week asked her if she was Chinese "for no apparent reason."
The letter called on trustees to "pursue a thorough, independent investigation," appoint an "impartial arbitrator" to review athletic department processes that caused an "an adverse and disparate impact on minority students," and make public all materials that factored into the decision, the swim team leaders said.
Yet more than three months later, the members of the affected groups still "do not know the exact reasons" for the cuts, Liao told The Fix. He added in a skeptical tone: "What we do know is what the college claims to be the reasons."
He sneered at the idea that the cuts were intended to open admission slots for applicants who "are more quote-unquote 'diverse,'" since the decision was racially motivated, in his view.
The students say they have also contacted the NAACP, Diversity in Aquatics, USA Swimming, and other Asian-American groups that are active on Dartmouth's campus.
The campaign for answers seems to have had some effect. Sheehy canceled a scheduled Q&A with the Dartmouth Alumni Council, the New Hampshire Union Leader reported this week.
Dartmouth Director of Alumni Leadership Liz Nunez told the council in an email that Dartmouth didn't want him taking questions about the elimination of the swimming and diving teams specifically. That's a decision for the trustees, "and we are deferring further discussion until the board has an opportunity to respond," she wrote. Sheehy and Hanlon (below) did not respond to Fix inquiries.
MORE: Dartmouth to impose mandatory implicit bias training on everyone
After nearly two months of silence from the trustees, Liao and Deppe-Walker followed up with the Oct. 7 letter to Education Secretary Betsy DeVos. (Both letters are posted on the website Save Dartmouth Swim & Dive.)
"As of this letter, we have not received any explanation from Dartmouth College or its Board of Trustees," they wrote, asking for her help "obtaining the information we need to clearly understand how this decision was made."
Asked what exact help they wanted from the feds, Liao said: "One thing we just need is clarity. We don't know anything about the research that was done to make the decision." Dartmouth is "withholding all information on demographics, especially for sports teams."
Deppe-Walker wants the feds to "pressure the college to start a dialogue with us," she said. In a call with Hanlon and Sheehy shortly after the cuts were announced, the team captains asked for the metrics used to determine which teams would be eliminated. "They said that we wouldn't be getting access to that," she said.
Sheehy allegedly said he couldn't release the information because "the trustees and I made this decision together," but Liao doesn't buy this because the trustees didn't seem to have much say in the matter. "From all the information that we have, it doesn't seem right. The cuts weren't justified," he said.
MORE: Dartmouth removes weather vane to hide its history
MORE: Princeton suspends swim team for 'offensive' emails it won't describe
IMAGES: Dartmouth College
Like The College Fix on Facebook / Follow us on Twitter