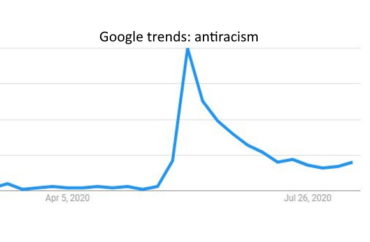 Antiracism is now one of the most popular terms in America. Just a few months ago, it was a blip on the radar.
A look at Google trends shows the word saw a massive spike in interest that started in mid-May and took off like wildfire.
Predictably, universities are now quick to embrace, advance and promote the ideology.
The College of William & Mary, for example, recently unveiled The Antiracist Bookshelf. It offers book suggestions for a wide array of topics, such as transnational perspectives, systemic racism, racism in science, black lived experiences and historical trauma.
The bookshelf was inspired by the George Floyd protests, according to a news release from the university.
"There are many things libraries can do right now to contribute to dismantling systemic racism, and this is just one small way that we can highlight some of the more pressing issues and allow those who are ready to begin or further their self-education in anti-racism to do so in whatever way works best for them," librarian Liz Bellamy stated in the release.
.@WMLibraries' Liz Bellamy, Alexandra Flores and Mary Oberlies have worked together to compile the Antiracist Bookshelf — a curated list of books that address systemic racism and ways to combat it.https://t.co/rjkgMbXRBL

— William & Mary News (@WMNews) July 10, 2020
The Georgetown University library now offers similar resource. Launched in June, the toolkit includes a glossary that defines terms such as white fragility, institutionalized racism and intersectionality.
In its "Scaffolded Anti-Racist Resources," a pyramid lists all the ways in which white people allegedly show socially acceptable covert white supremacy. Examples listed include: Make America Great Again, anti-immigration policies, denial of white privilege, and exceptionalism, among dozens of others.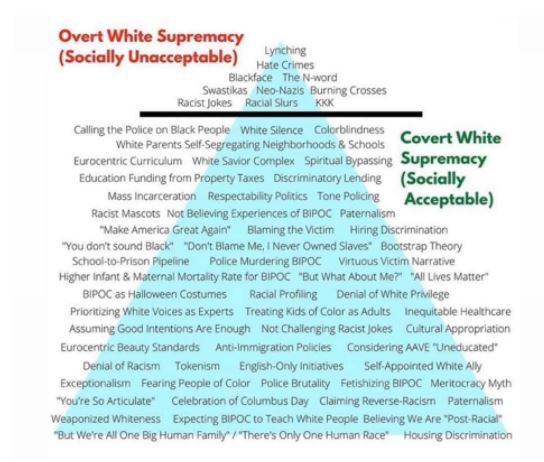 Several universities are also asking students to sign antiracism pledges.
Among them is the University of Southern Maine, which argues in its pledge that the United States' "Intentionally constructed and deeply ingrained racist policies continue to deny Black, Indigenous and People of Color access to education, employment, housing, healthcare, justice and voting — and increase their chances of incarceration."
New demands lodged by student activists at college campuses across America this summer also heavily called for various antiracism actions, such as hiring more black faculty and infusing curricula with the ideology.
Workshops and classes are also on tap.
The University of Connecticut is slated to pay "white fragility" scholar Robin DiAngelo $20,000 to lead a three-and-a-half-hour antiracism workshop this fall for administrators.
The University of Pittsburgh is requiring all incoming freshman to take a new course on antiracism titled "Anti-Black Racism: History, Ideology, and Resistance."
At a virtual panel August 4 focused on antiracism, one professor argued that the American Dream is a "damaging" ideology to black people.
All this joins the handful of universities that already hit the antiracism drive full throttle prior to this summer's racial unrest. That's thanks to Professor Ibram Kendi, author of the 2019 best-selling book "How To Be an Antiracist."
He joined Boston University's faculty in July and has launched the BU Center for Antiracist Research. Prior to this, he was the founding director of American University's Antiracist Research and Policy Center.
It appears there's no end in sight to antiracism zeal, especially among academia, and the term will take its place in the national lexicon next to others immortalized by leftist activists, such as white privilege, toxic masculinity and microaggressions.
MORE: Prof defines 'antiracism' as belief in equal outcomes among racial groups
Like The College Fix on Facebook / Follow us on Twitter