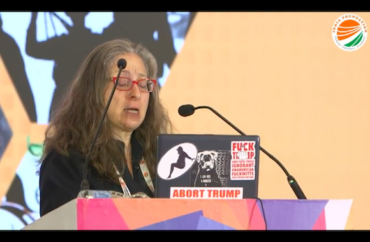 UPDATED
Fair calls the complaint 'politically-motivated rubbish'
Professor C. Christine Fair is no stranger to attention-grabbing headlines. She told a Trump-supporting colleague to "go to hell" and earlier this year, German police officers accused her of calling them "German Nazi police."
Most recently, she was placed on research leave after posting a controversial tweet that called for the "miserable deaths" and castrations of Republican members of the Senate Judiciary Committee. Afterward, she claimed the tweet was an "experiment."
Now Georgetown University may have to answer for her to the Department of Education.
Last week the National Coalition for Men filed a Title IX complaint against Georgetown that included Fair's conduct and requested that Georgetown fire her.
Fair blasted the complaint in an email to The College Fix. She called it "politically-motivated rubbish initiated by persons who have on [sic] familiarity with me or my students. It is, in short, a stunt."
NCFM was already contemplating a complaint against Georgetown but Fair's tweet was "the catalyst," President Harry Crouch told The Fix in an email.
The bulk of the complaint alleges that Georgetown allows several programs to operate that are openly discriminatory and exclusionary of men. NCFM filed a similar complaint against Northeastern University earlier this year after a professor wrote an op-ed titled, "Why can't we hate men?"
The Georgetown complaint claims the school violates Title IX "because it offers resources, funding, fellowships, and scholarships that are available to women only, even though men are a minority both nationwide [42%] and at Georgetown University [44%]."
The complaint also alleges that Georgetown has "an unlawful preference for women in its employment/hiring practices" and "maintains ties with groups which are women only, without maintaining ties with any male-only groups."
It then lists several groups it claims are inclusive to women only, or groups that use discriminatory language in their titles such as "Georgetown Women's Alliance" and "Georgetown's Women's Center."
The complaint doesn't mention Fair until an "addendum" on its final page. It condemns her "violent and ugly" statements and describes Fair as someone "who has openly called for violence and terrorism against men as a class (and several specific men)."
NCFM's Crouch claimed that Fair's comments were hate speech, bordering on "terrorist threats," and should not be protected under academic freedom.
"We too defend freedom of speech," he wrote. "However, it does mean, that she, like all professors, should be responsible and be held accountable to high standards."
Crouch also called Georgetown's decision to place Fair on research leave "disgusting." It's really a "vacation" intended to last "until the controversy cools."
Kursat Christoff Pekgoz, a provost's fellow in the Department of English at the University of Southern California, said that he provided input to NCFM for the complaint.
"Christine Fair's statements are not protected by the First Amendment," he told The Fix in an email.
"They constitute specific violent threats against actual people; they also conflict with federal anti-discrimination statutes which prohibit discrimination and harassment based on protected characteristics," he continued.
Pekgoz also pointed to the potential for a double standard. "A simple test of reasonableness might constitute no more than, 'would a male professor be expelled for making similar statements against women?'" he wrote. "The answer to this question is obviously, 'yes.'"
However, Adam Steinbaugh of the Foundation for Individual Rights in Education disagreed with this assessment.
"Fair's tweets are protected under the First Amendment, and Georgetown extends freedom of expression to its professors," he told The Fix in an email. The tweet was not a "true threat" that is legally unprotected, he explained.
"Wishing or hoping for the death of political leaders, or remarking that they 'deserve' miserable deaths, is highly charged political rhetoric, not by itself a serious expression of an intent to commit an act of unlawful violence," said Steinbaugh, director of FIRE's Individual Rights Defense Program.
The Title IX complaint claims that Fair "is an active and ongoing security threat to her male students," and that she could not be expected to be fair or create a positive environment for male students on campus.
Fair pushed back on this claim. "Most of my students have been males and there is no difference in grades between males and/or females," she wrote to The Fix.
"I also go above and beyond the call of duty for all of my students," she continued. "I help all of my students to find jobs if they request my assistance. Many do and since most of my students are male, they are the key beneficiaries of my extensive efforts."
Fair also objected to the idea that her politics affects how she teaches in the classroom:
I do not ask my students about their politics. I tell them that I do not follow them and ask that they not engage me on social media. I ask that they not follow me. I make every effort to firewall my personal views from my professional obligations.
One of Fair's former students wrote an op-ed titled "In Defense of Christine Fair" after her 2016 conflict with Asra Nomani, Fair's former colleague who wrote an op-ed titled "I'm a Muslim, a woman and an immigrant. I voted for Trump."
Fair responded by telling Nomani to go "fuck" herself and to "go to hell," which caused Nomani to file a complaint with Georgetown's School of Foreign Service.
"[Fair] is brilliant and bombastic, erudite and acerbic, astute and witty. She fearlessly defends Western values of human dignity, democracy," wrote Treston Wheat, who took a class with Fair for his master's degree, in The College Conservative.
Wheat also insisted that Fair "never lets her ideological bent interfere with her teaching," and that she " encouraged thoughtful debate based on reason, logic, and facts."
Georgetown's Office of Communications did not respond to a request for comment on the Title IX complaint.
However, after Fair's initial tweet made headlines, Georgetown President John DeGioia issued a statement supporting academic freedom. The university protects "the right of our community members to exercise their freedom of expression," but is also "committed to having our classrooms and interactions with students be free of bias and geared toward respectful dialogue," he wrote.
CORRECTION: The original story misattributed a quote. German police accused Fair of calling them "German Nazi police." The article has been fixed.
IMAGE: India Foundation / YouTube
MORE: Professor who called for Republican deaths placed on 'research leave'
MORE: Professor who tweeted for Republican deaths calls it 'experiment'
Like The College Fix on Facebook / Follow us on Twitter