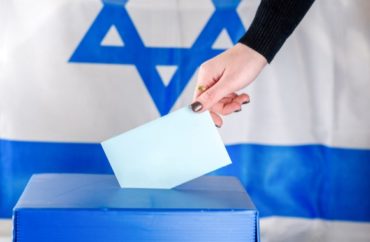 Cosponsored by #LetThemFuckingDie professor
Another academic association has distanced itself from the anti-Israel boycott, divestment and sanctions movement, but it was a close call.
By a margin of 37-34, members of the Society for the Study of Social Problems voted down a controversial resolution that called for "a boycott of complicit Israeli academic institutions" at its annual meeting earlier this month.
If passed, the 68-year-old social sciences group would have urged its members to promote "divestment and disinvestment from Israel by academic institutions."
SSSP members would have been directed to pressure their own institutions to "suspend all ties with Israeli universities, including collaborative projects, study abroad, funding and exchanges."
Ezra Temko, a sociologist at Southern Illinois University-Edwardsville, told The Algemeiner that many SSSP members were either never made aware of the vote or were only told about it once they arrived at the conference.
Yet the turnout for the meeting was high in comparison to previous years, likely because of the controversial resolution, Temko told The College Fix in an email. Even though the organization includes more than 2,000 members, most do not attend the annual business meeting where voting takes place, he said.
The resolution sponsors, both sociologists, accused "American pro-Israel operatives" of getting new memberships "months before the meeting for the sole purpose of voting against this resolution," which drew six opposing votes by proxy and seven abstentions.
Melissa Weiner of the College of the Holy Cross and Johnny Eric Williams of Trinity College published a statement on the vote at Washington Babylon, a far-left politics site created by former Harper's editor Ken Silverstein.
"These operatives used lies, identity politics, and emotion to elide Israel's violations of Palestinian human rights and international law, and the role of Israeli academic institutions in, at best justifying, at worst actively planning, implementing and maintaining these violations," they wrote.
The US Campaign for the Academic and Cultural Boycott of Israel, which was cited twice in the resolution, posted the same statement. Weiner and Williams did not respond to The Fix for comment.
Williams is no stranger to controversy. In a Facebook post about the 2017 shooting at a congressional Republican baseball practice, he used the hashtag #LetThemFuckingDie. The backlash prompted Trinity to close down for the day, and the college briefly suspended Williams.
This spring, he caused a stir by stating on Facebook: "'White' kneegrows really need a lot of therapy and a good 'ol [sic] ass kicking." Williams was referring to black conservative commentator Candace Owens and "less brazen but more insidious dangerous 'white' kneegrows like Barry and Michelle Obama."
MORE: After GOP baseball shooting, professor says #LetThemFuckingDie
'The Palestinian Authority and Hamas routinely silence open inquiry'
Weiner and Williams are correct that the burst of opposition developed in the runup to the vote.
University of Wisconsin-Madison sociologist Chad Alan Goldberg wrote a letter signed by 17 former SSSP officers, editors, and "award-winners" in opposition to the resolution. Temko provided it to The Fix (below).
The signatories oppose "all academic boycotts," according to the July 26 letter, and further argue that the discriminatory nature of BDS would violate SSSP's own bylaws. This "blacklist" would restrict the academic freedom of SSSP members "to work with scholars from other institutions around the world."
Alums for Campus Fairness also started a petition against the resolution, receiving nearly 250 signatures.
"If SSSP really sees a role for itself in solving this complex geopolitical issue, it should focus its time and energy on enhancing academic partnerships and strengthening the bonds between people of different cultures," the pro-Israel group wrote. "The goal should be to bring people together, not drive them apart by discriminating against their Jewish and Israeli colleagues."
Miriam Elman, executive director of the Academic Engagement Network, told The Algemeiner before the vote that if Weiner and Williams "really cared about the academic rights of Palestinians," they would focus on "how the Palestinian Authority and Hamas routinely silence open inquiry and punish those who oppose them."
She said the 19 "endnotes" in the resolution are "top-heavy with the propaganda of virulently anti-Israel [nongovernmental organizations] and non-scholarly websites." It fails to mention a "single threat to freedom of speech coming from Palestinian authorities themselves."
Society for the Study of Social Problems members oppose anti-Israel resolution by The College Fix on Scribd
MORE: Literary scholars expect BDS backlash for killing MLA resolution
After the resolution was voted down, Temko said he was "proud" of SSSP, which "remains committed to being an inclusive and nondiscriminatory progressive space for critical scholarship and action."
He wrote in a Facebook post that the BDS movement "stands in opposition to social justice" by opposing study-abroad programs, "Israel's membership in FIFA [the soccer organization], and even dialogue and peace-building efforts that bring Israelis and Palestinians together without preconditions."
Temko echoed those thoughts in an email to The Fix. The rejected resolution is "an affirmation that organizational support for BDS stands in contrast to SSSP's commitment to social justice."
Hector Delgado, executive officer of the organization, would only tell The Fix that debate around the proposed resolution "was a robust discussion."
BDS seemed to be on the rise at academic associations a few years ago. The American Studies Association adopted a similar resolution in 2013, which prompted an unsuccessful lawsuit. The Critical Ethnic Studies Association, African Literature Association, Native American and Indigenous Studies Association, Association for Humanist Sociology and Association of Asian American Studies had all endorsed boycotts a year later.
The National Women's Studies Association, about the size of SSSP, endorsed a boycott in 2015. The tide started to turn with the American Anthropological Association: It voted overwhelmingly to boycott Israeli institutions at a meeting in 2015, though a larger vote narrowly rejected a boycott the next year.
Anti-Israel resolutions have failed at the Modern Language Association and American Historical Association. They also failed in student governments this year at Columbia University and the University of Oregon, though only at the latter because a judicial body ruled the resolution violated the student government's constitution.
MORE: Docs show anti-Israel professors 'covertly' took over ASA
IMAGE: Inna Reznik/Shutterstock
Like The College Fix on Facebook / Follow us on Twitter