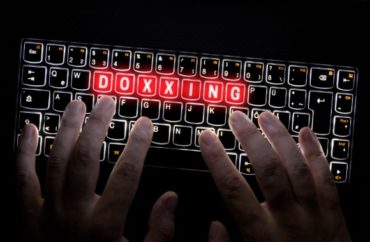 Many College Fix articles in recent years detail how conservative students get doxxed by angry, leftist peers — and there's a few more articles in the works on that subject right now.
When someone gets doxxed, their home address, phone number, email addresses, job locations and other personal information gets published and spread to folks actively seeking to destroy their reputation, career or life. It's ugly.
MORE: Grad student faces expulsion after doxxing Republican peers
MORE: UT responds to doxxing threat against conservative students
But where do they get all this information? It turns out there are many online data broker websites, and it's cheap to purchase a report with a great deal of personal information on a person's full name, phone number, family members, past and current addresses, employment history and more. Guess how much one report costs? In some cases, less than $1.
This chart below spells out some of the bigger data broker companies, how much web traffic they get, and how much they charge someone to access personal data.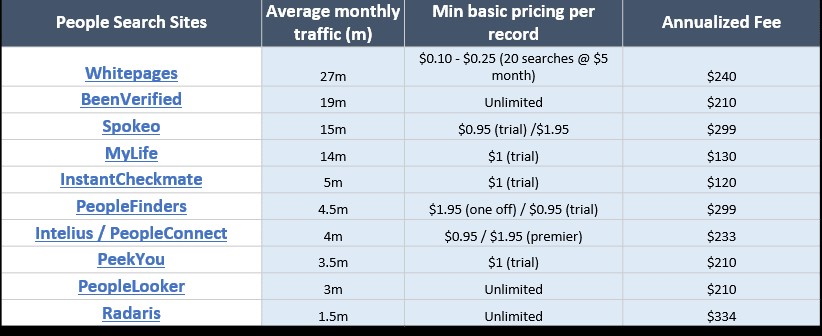 MORE: Grad student who doxxed Republicans had 'terabytes' of highly sensitive data
MORE: UW faculty member doxxes conservative students, mocks them on Twitter
This isn't "dark web" stuff.
The companies get this information in three ways: they scrape public information from your social media accounts like Facebook and Instagram; they cull public records information that come from places such as DMV data, voter registration, state college accounts or other public agencies; and they buy data in bulk from various companies you've signed up to do business with over the years.
That according to Rob Shavell, co-founder and CEO of DeleteMe, which works to help people get their information off these data broker websites.
Shavell, in a telephone interview with The College Fix last week, said stories of students being doxxed for saying unpopular things has recently grown exponentially.
"It happens too often all the time and it's part of this bigger trend that we are not comfortable in America having a debate anymore, or sharing opinions," he said. "Everyone is sort of angry and huddled up in their own little tribe and vents through their cell phone and keyboard, and it's a big problem."
MORE: Berkeley College Republicans doxxed by radical leftists
MORE: Prof doxxed after she criticized negative portrayal of Trump voters
Shavell said the problem is not going away, and in fact it's getting worse. He said online data brokers have built profiles on 97 percent of U.S. citizens and added the profiles are getting much more detailed.
"In 2017, the average number of total pieces of information we found on someone enrolled in our deleting service was about 900 pieces of information across all these data brokers," he said. "As of last year that had risen to 2,000 separate pieces of information found for the average customer. So not only do they have profiles on all Americans, they have more than doubled in the amount of detail about us."
"What we are seeing is technology at work. It's just cheaper and easier to go get information and correlate data and make it available for sale to anyone who wants to dox someone else," he added. "What has happened is the last 20 years that the internet has been around is we have created thousands of unregulated [Experians, Equifaxes and Transunions] that are selling our information and collecting new information about us all the time."
Shavell's company, for a fee, will go around and work to get someone's information removed off all these sites, but he also lists a free "D.I.Y. Free Opt-Out Guide" on the JoinDeleteMe.com website.
"So, if you want to save money if you are a college kid and you have more time than money, you can do exactly the same thing that our service does," Shavell said.
He said his business is growing — it's doubled this year over last. But, he added, he wants Congress to take a look at this problem and help consumers protect themselves.
"Hopefully that happens soon," he said.
MORE: Dartmouth professor cheered Covington Catholic 'doxxing' 
IMAGE: SFS / Shutterstock
Like The College Fix on Facebook / Follow us on Twitter