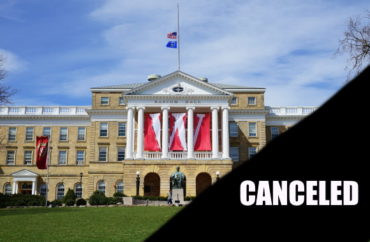 OPINION: 'This gain of trendy social currency in exchange for our shared culture as Badgers is not worthwhile and will result in no less than a campus that will have actively dismantled itself in a few decades' time'
Count me among those feeling confused after the University of Wisconsin Madison hauled away a 42-ton boulder from campus in August in the name of racial equality.
Removed by administration in August, the rock had once been referred to as a racial slur by a local newspaper in 1925, apparently warranting its dismissal from campus grounds almost 100 years later.
As an UW-Madison undergrad, I agreed with sentiments I read online from peers, alumni and observers who called the decision to remove the pre-Cambrian glacial rock, estimated to be over two billion years old, rather absurd.
While the removal signified the administration's commitment to creating a more welcoming community for those who say they find the 936-acre campus oppressive, it also illustrated that cancel culture exists at my university as it does at many others across the country.
UW-Madison has an unfortunate history of erasing items on campus that have but a tangential connection to racism at best.
In 2018, the names of Fredric March and Porter Butts were removed from campus buildings because the two prominent alumni had belonged to an interfraternity society of student leaders that bore the same name as the more infamous Ku Klux Klan.
The decision was made despite professors and historians finding no affiliation between the two Klan groups other than their names, nor any evidence of racist activities from March and Butts, who were actually described in a research report as acting welcoming and inclusive on campus.
Some historians now call the removal of March's name an overcorrection, a mistake, and an "extraordinary misjudgment" given that he was actually an outspoken civil rights advocate.
Yet there are no plans to reverse the decision, proving that these cancelations often overstep reality in their pursuit of an objectively inoffensive campus.
Consider the prominent 50-foot campus landmark near the football stadium titled "Nails' Tales" designed to pay homage to Greco-Roman obelisks signifying conquest and strength. It was removed in 2019 because some thought it was shaped too much like male anatomy.
Administrators are also not alone in handing out cancelations, but are joined by their student body as well.
A friend of mine, and fellow UW-Madison student Tripp Grebe, was dismissed from the mainstream campus paper the Badger Herald last fall after submitting a conservative op-ed arguing against defunding the police and instead calling for police reform. The Herald also refused to run his column.
Where does it end? Possibly the iconic statue of Abraham Lincoln that sits proudly atop Bascom Hill, a common campus passing area considered the heart of our university.
Although Lincoln is credited with freeing the slaves and saving the union, the narrative that he was a racist has taken root in Madison, leading to some who wish to see the campus fixture removed for good.
In 2015, as Black Lives Matter protests engulfed the campus, members of a then-new campus group called "About Race UW" proposed the removal of the statue. In 2016, the 114-year-old statue was draped in a black tarp during a racial protest by students.
In 2017, the student government approved a resolution to educate the campus community about Lincoln's "oppression." Last fall, the student government passed a resolution calling for the statue's removal to "create an inclusive and safe environment for all students."
Chancellor Rebecca Blank has, in an uncharacteristic turn of events, refused to remove it, perhaps because some alumni threatened to pull donations if she did, or perhaps some campus icons are untouchable.
But given the history of cancel culture at UW-Madison, that could soon change.
A College Fix database that tracks cancel culture examples at universities across the nation found more than a dozen examples from University of Wisconsin Madison alone over the last decade.
While I welcome changes to our university that improve our way of life, we should not pull our campus apart piece by piece in order to achieve object inclusivity as a result. The shared traditions and culture that I have with my fellow Badgers is ultimately what makes our school special and is why so many students compete to call it home each year.
For this reason, we cannot entirely abandon campus landmarks which some, in the modern day, call offensive after applying current morals to artifacts from a different age.
This gain of trendy social currency in exchange for our shared culture as Badgers is not worthwhile and will result in no less than a campus that will have actively dismantled itself in a few decades' time.
Click here to the see Campus Cancel Culture Database
Like The College Fix on Facebook / Follow us on Twitter