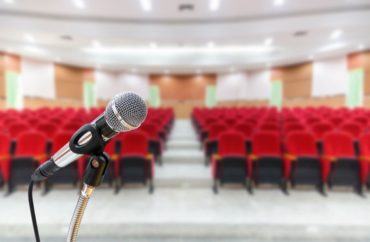 'Each school has its own culture'
WASHINGTON – Harvey Mansfield was disinvited from a commencement speech at a Canadian university following backlash over the veteran Harvard professor's traditional views on gender and sexuality.
Bob Kerrey withdrew from speaking at Nebraska's Creighton University because of opposition to an abortion-rights advocate addressing a Catholic commencement.
They have opposing takeaways on their recent experiences, however, as demonstrated at a Bipartisan Policy Center panel discussion Tuesday on campus speech disinvitations. The think tank was founded by former Republican and Democratic Senate majority leaders.
Best known for his book-length defense of masculinity, Mansfield accused Concordia University of a "dishonest" justification for his disinvitation. The Canadian institution told him that he hadn't actually been invited, when in fact its liberal arts college had invited him to speak on the "Great Books" for commencement, Mansfield said.
Commencement speakers should "show what the university most honors," he told the audience.
A two-term Democratic senator from Nebraska and former president of The New School in New York, Kerrey initially claimed that Republicans might disrupt Creighton's commencement if he went forward with the speech, according to the Omaha World-Herald.
The state GOP executive director, Ryan Hamilton, had asked Creighton to "take a stand for their pro-life values" but denied any intention to disrupt a Kerrey speech.
Yet two months after accusing Nebraska Republicans of not knowing "how to engage in important debates," Kerrey seems okay with giving up a commencement platform.
MORE: Mansfield disinvited for views on gender and sexuality
He told Tuesday's gathering that he didn't want his commencement address to be a topic of controversy. "Each school has its own culture," Kerrey said. "It wasn't unreasonable for someone to say 'you weren't a good fit for a commencement speaker.'"
The former senator offered a viewpoint that was echoed by all except Mansfield: that commencements should be "parties" and yet should not draw controversy for giving honorary degrees to speakers.
The only administrator on the panel, Wesleyan University President Michael Roth, qualified his support for ideologically diverse speakers by echoing Kerrey's remarks about commencement speakers.
"If you invite the wrong guy to the party, you need to disinvite," Roth said.
Roth's tenure at Wesleyan has been marked by controversies over speech that challenges the progressive monoculture of the private school, which is half an hour's drive from Yale.
Wesleyan was named on the "10 worst colleges" list for free speech in 2016 by the Foundation for Individual Rights in Education, after its student government chopped the student newspaper's budget for publishing a column critical of Black Lives Matter. Roth sided with the student government, claiming it was trying to be inclusive.
His administration declined to back up Roth's claim that last year's invited commencement speaker, "Lemony Snicket" children's author Daniel Handler, withdrew voluntarily after he was accused of sexually inappropriate comments.
MORE: Wesleyan claims 'Lemony Snicket' withdrew as speaker voluntarily
Inviting disinvited speaker was 'one of the best teaching experiences I ever had'
The political left invented the word "marginalized," but its adherents are "the chief practitioners of marginalizing," Mansfield told the audience.
"What we see is less and less devotion by liberals to the notion of liberal free speech," he said. "American universities seem to have lost the notion that you ought to have a bipartisan face."
He contrasted the United States military, "a citadel of the right," with American academia, "a citadel of the left." Only the former, however, knows that its must serve under Democratic and Republican presidents and work in a nonpartisan manner.
Responding to Kerrey's assertion that "technology allows us to behave badly and to get rewarded for it," Mansfield warned that social media has exacerbated the "nastiness" of human beings and hurt intellectual discussion.
Matthew Dickinson, a professor of political science at Middlebury College, shared his experience of inviting a speaker to his class who had just been disinvited by his administration. Middlebury is known as the site of a physical attack on a professor who tried to protect an earlier invited speaker, the libertarian social scientist Charles Murray.
It was in fact one of his students in the "American Presidency" seminar that asked Dickinson to invite Polish politician Ryszard Legutko after his disinvitation, he said.
The students, by secret ballot, unanimously voted to invite Legutko to speak after Dickinson required them to all agree first. "One of the best teaching experiences I ever had," the professor said. "Before I knew it my nine-person seminar turned into a 50-person seminar" as students outside his class trickled in.
MORE: Polish politician gives classroom talk after Middlebury admins disinvite him
A Middlebury College student contacted me with an audio recording of a student/faculty meeting about the Ryszard Legutko cancellation. He was concerned about what took place and wanted help to get it out so I put a video together for him – https://t.co/ece2U2JCug

— Mike Nayna (@MikeNayna) April 19, 2019
Kyle Kashuv should not have been dumped by Harvard
Roth also took on the mantle of promoting diverse viewpoints. He has a book coming out in August titled "Safe Enough Spaces: A Pragmatist's Approach to Inclusion, Free Speech, and Political Correctness on College Campuses."
The president told the audience he had made a conscious effort to invite more conservative speakers to Wesleyan in recent years, even though he himself had little agreement with their opinions.
Repeating a story that was critically told by Princeton Prof. Robert George, Roth said the first target of his effort to bring in conservative voices was the late Justice Antonin Scalia.
If it hadn't been for the fact that he ended up introducing the justice, Roth said he would have been outside protesting the event.
Though Kerrey has made peace with his withdrawn appearance at Creighton, he criticized Harvard University for another form of disinvitation: revoking an accepted student's admission.
The Parkland shooting survivor and Second Amendment activist Kyle Kashuv should not have lost his spot at Harvard over racist text messages he sent as a 16-year-old, Kerrey said. Kashuv said he was trying to be "as extreme and shocking as possible" at the time, but apologized for the remarks.
"I have strong objections to this thing called a microaggression," the 75-year-old statesman said, adding that at his age, it's difficult to keep up with all the changes in vocabulary to avoid offending people.
"I get confused when I have to call someone by a plural pronoun" because they don't like gendered pronouns, Kerrey said. "You should be able to say things that might hurt someone unintentionally" and not be chastised for it.
MORE: Harvard revokes admission for Second Amendment activist
IMAGE: wk1003mike/Shutterstock
Like The College Fix on Facebook / Follow us on Twitter