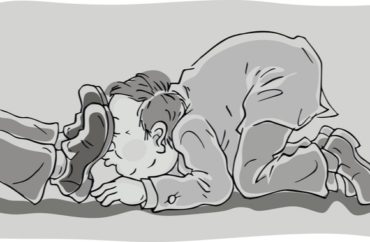 Double standard between having fun and going to BLM rallies
If you want to see a modern illustration of why the American colonies broke away from the crown, look at an unexpected controversy: snowball fights.
U.K. Prime Minister Boris Johnson is handing out £10,000 fines (nearly $13,700) to anyone who "organizes" a gathering of more than 15 people. That meant a 20-year-old and 23-year-old were each hit with the maximum fine for organizing a "massive snowball fight in Leeds," according to Sky News.
The Jan. 14 exercise in freedom of association was organized on social media and included both university students and non-students, organizer "Adam" said. "It was a very welcome relief… a welcome laugh that people needed":
I know many students who are extremely depressed, and stressed with online exams and have had little support.

Mental health is equally as important as physical health… so many young people and students really have nothing to keep them going at this point.
Judging by the reactions of locals and the media to a massive snowball fight organized by Liberty University, Americans are increasingly fond of the idea of ceding their minute-by-minute freedoms to someone like Johnson.
Sadly, the Christian university famous for trolling elite opinion is already sucking up to the establishment for having the gall to encourage students to have fun with virtually no risk.
The Christian university posted a photo Sunday night of a massive snowball fight on campus. Some students are wearing masks, but it doesn't appear to be the default option. President Jerry Prevo (below) had invited students to flout the COVID fascism that rules American higher education.
For a couple days, he held firm.
MORE: Home outbreaks are responsible for four in five COVID cases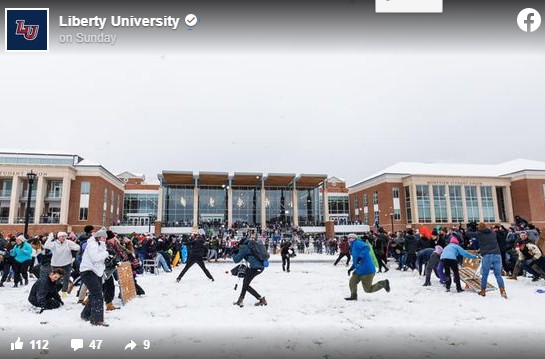 The COVID-19 scolds quickly went berserk in the Facebook comments, shaming Liberty for supposedly letting students spread the novel coronavirus.
We've known for several months that the virus does not transmit easily outdoors – a fact selectively admitted by elite opinion, which condoned massive outdoor Black Lives Matter rallies even on campus. More recently research has shown that people without symptoms almost never transmit the virus even in the home.
The media reaction was just as fierce and ignorant, with outlets across the country suddenly forgetting their support for outdoor BLM rallies with no social distancing. Local TV station WSLS frowned on the fun Monday.
MORE: College exempts 500-person BLM protest from 10-person COVID rules
As I was finishing this post Tuesday afternoon, I noticed all evidence of the snowball fight was incrementally disappearing – not just from university accounts but from the student newspaper.
It started with the newspaper hiding a Facebook video whose caption specifies that Prevo "invited all students to join him in an epic snowball battle!" It also took down a YouTube video of the snowball fight Tuesday afternoon. (The administration has a history of censoring the Liberty Champion and interfering in its coverage.)
MORE: Getting COVID without symptoms is extremely rare in the riskiest place
Even Prevo's own Facebook post celebrating the snowball fight went missing. According to McClatchy News, he wrote:
The Great LU Snowball Battle of 2021 is in the books. I loved introducing 3,000+ LU students to a taste of life in Alaska today… It was so much fun! LU students are the greatest students in the world!
The university put out a statement Tuesday afternoon where Prevo said he "messed up" by not specifying that students must wear masks and stay six feet apart while throwing snowballs at each other in the safest environment possible. (News flash: The far riskier activity on Sunday was getting hit by snowballs, which is why it's been banned at Delaware State for at least two years.)
He said he got "caught up in the moment of the day," the first heavy snowfall in the campus town of Lynchburg in more than two years.
We have had a strong record of compliance and containment of COVID-19 from the start, and we want our community to know that Sunday's snowball event was not done with a heart of defiance. … I and my leadership team apologize for not leading our students to abide by COVID-19 protocols during this event. I am truly sorry for how this activity may put our students and university in a negative light, potentially diminishing the hard work of many dedicated employees and volunteers.
Liberty has nothing to apologize for. Prevo wanted the campus to have a day of fun with minimal risk to everyone, and that's what happened.
If you got to see the Liberty Champion video before the university presumably ordered it removed, you saw the joy in the faces of everyone. People rightly go to physical college campuses for the social opportunities as much as the academic opportunities of close interactions with faculty who can open doors for them.
Now, this university founded to rebuke the encroachments of secular fascism is instead licking the boots of people who will never be satisfied by anything it does.
For shame.
MORE: Boston University exempts BLM events from COVID size limits
IMAGES: Bannykh Alexey Vladimirovich/Shutterstock, Liberty University/Facebook
Like The College Fix on Facebook / Follow us on Twitter