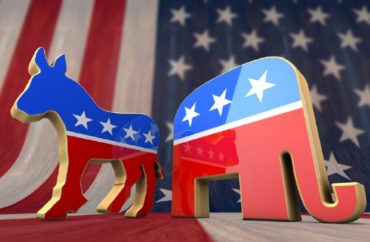 UPDATED
ANALYSIS: A review of 2022 donation data shows a strong tilt in favor of Democrats
A review of 44 universities across 11 states found that an overwhelming majority of faculty donations went to Democratic candidates or causes.
The College Fix analysis found that when faculty donations were broken down between Democratic candidates and organizations versus Republican candidates and organizations, 96 percent of faculty donations went to Democrats.
In total, university faculty donated about $4.57 million to Democrats, while approximately $190,000 went to Republicans.
The analysis looked at Federal Election Commission data for the 2022 midterm election cycle and included all Ivy League universities, institutions in Michigan, North Carolina and Ohio, and schools within the University of Wisconsin system.
In total, The Fix analyzed donations at 44 different universities across 11 states — Rhode Island, New York, New Hampshire, Massachusetts, Pennsylvania, New Jersey, Connecticut, North Carolina, Wisconsin, Ohio and Michigan.
The associate editor of The Fix who has worked on campus political organizing for more than seven years said the results give further proof that campuses have a liberal political bias.
"Over the years, professors have made it profoundly clear that they do not respect conservative voices," Associate Editor Matt Lamb said via email. "This problem will only grow as universities/hiring committees/departments institute mandatory diversity statements and require faculty to show their commitment to wokeness in order to gain tenure."
"The issue is not necessarily that professors are primarily donating to Democratic candidates, it's that there is no balance on the Republican side," Lamb, a former employee of Turning Point USA and Students for Life of America, said. "The extreme tilt seen at every university reviewed shows that either the faculty is devoid of conservatives or that they are afraid to have their name exposed as being a Republican."
MORE: Democratic professors dominate University of Nebraska-Omaha departments
The Fix reached out to most of the institutions involved, including all eight Ivy League universities and the University of Wisconsin-Madison.
UW-Madison spokesman John Lucas told The Fix that the university "plays no role in the personal political activities of its employees."
None of the Ivy League colleges responded to a request for comment.
Ivy League faculty gave nearly $2.5 million to Democrats, while only approximately $112,000 went to Republicans.
One of the largest discrepancies between donations to Republicans versus Democrats in this report by The Fix was at Harvard University, where professors gave just under half a million dollars to Democrats, but only $8,600 to Republicans. In terms of percentages, this means a mere 1.7 percent of donations went to Republican campaigns.
However, the widest disparity was at the University of Pennsylvania where professors' donations to Democrats totaled $350,000 — compared to the Republicans' $1,500, or just 0.4 percent of political donations.
An investigation into the ten largest universities in North Carolina yielded similar results.
Together, these ten universities donated $689,439.57 to Democrats (95 percent) but only $33,773.49 to Republicans (5 percent). This is a similar percentage to a prior analysis by The Fix from 2020.
The largest donation by university faculty was by professors at Duke University where faculty gave $552,562.44 to federal candidates. Only about 6 percent was collected by Republicans.
Other universities included Western Carolina University (where faculty gave 15 percent to Republicans), East Carolina University, Appalachian State University, North Carolina State University and North Carolina A&T University.
The four University of North Carolina campuses also were included — Chapel Hill, Charlotte, Greensboro and Wilmington — but none responded to inquiries from The Fix.
The third report looked at universities and campuses within the University of Wisconsin system—within which 99 percent of professors' donations went to Democratic campaigns, primarily through fundraising platform ActBlue. These donations totaled $291,286.67.
In contrast, professors teaching at universities within the UW system gave only $3,898.50 to Republicans which amounted to just 1 percent of political donations. Almost a third of the system's donations came from UW Madison which gave more than $100,000 to Democrats but barely $2,000 to Republicans.
Meanwhile, faculty at the nine largest colleges in Michigan gave $820,000 of their $850,000 in donations to Democrats.
On November 8, The Fix published its final report which analyzed political donations from faculty at Ohio's top four largest universities. The universities included in the analysis are The Ohio State University, the University of Cincinnati, Kent State University, and Ohio University.
Combined, faculty at these universities gave well over $287,991.40 to Democrats but only $10,764.76 to Republicans. This equates to a total of 96.3 percent of political donations going to Democratic campaigns — up from 92 percent in 2020, The Fix found.
Faculty from The Ohio State University gave at least $175,000 to political causes, 98 percent of which went to Democrats.
Editor's note: The article has been updated to include data from Michigan universities.
MORE: Yale law dean wants amends with conservative judges
IMAGE: Cowardlion/Shutterstock.com
Like The College Fix on Facebook / Follow us on Twitter