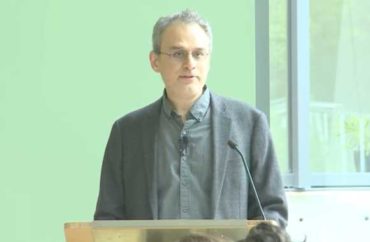 'Ultimately, the reason I left academia…is the same that many others have'
Writer and former Yale University professor William Deresiewicz left academia because he had to go: his passion for literature and teaching made him unfit for a tenure-track job, according to his recent essay published in Quillette.
Deresiewicz earned his doctorate in English at Columbia University and obtained a 10-year temporary teaching job at Yale, he wrote. Then he applied to 39 schools for a stable, tenure-track job. They all rejected him.
"With a name like Yale on my CV, plus a decent publication record, I must have really screwed things up," he wrote in his August 17 piece. "And I did."
His major screw-ups included, on his telling, loving literature too much without a political agenda. Unfortunately, "loving books is not why is not why people are supposed to become English professors, and it hasn't been for a long time," he wrote, adding:
The whole concept of literature—still more, of art—has been discredited. Novels, poems, stories, plays: these are "texts," no different in kind from other texts.

The purpose of studying them is not to appreciate or understand them; it is to "interrogate" them for their ideological investments (in patriarchy, in white supremacy, in Western imperialism and ethnocentrism), and then to unmask and debunk them, to drain them of their poisonous persuasive power.

The passions that are meant to draw people to the profession of literary study, these last many years, are not aesthetic; they are political.
In the very first week of graduate school, his professor told him that "the most important thing" for a young graduate student "is to figure out where they stand ideologically," Deresiewicz wrote. His peers immediately began announcing their allegiance to Marxism or feminism.
Deresiewicz "under[stood] immediately that … I would need to speak my true beliefs behind closed doors, and only to those I could trust."
He wrote that he sensed that none of his peers sincerely believed in their academic causes; all the politics were "nothing more than a professional game."
Deresiewicz tried to hang on in a dying profession
He stayed, he said, because he still loved having a job reading literature, and he found some mentors – mostly older than 50 – who nurtured his passion. He also learned that he loved to teach.
"I wasn't going to yield the field without a fight," he said.
He did get a temporary position at Yale, which "was still a very conservative department – meaning, it was still run by people who shared [his] intellectual values."
However, he hated the "drudgery" and banality of academic publishing and the brazen political posturing on display at the academic conferences. None of his interests – teaching or writing essays for a general audience – helped him advance in the profession, which only valued ideological research.
Deresiewicz didn't give a damn about the English literature profession as it existed.
Additionally, academia seemed to be eating itself alive.
"Institutions were shifting their teaching to adjuncts on a monumental scale," he wrote. "Thousands of people are driven out of the profession each year (and thousands more agree to settle for the adjunct life)."
Deresiewicz left to become a writer, and he was far happier. If he had stayed to become a professor, he couldn't have written what he believed to be true.
Deresiewicz joins the club of former professors who turned against their profession
Ex-professors such as Deresiewicz are building a genre of academia-departure reports. Psychologist and public intellectual Jordan Peterson, philosopher Peter Boghossian, anthropologist Joseph Manson, classicist Joshua Katz, psychologist Bo Winegard, and countless quieter instructors have publicly resigned or been fired. Their particulars differ, but their reasoning is depressingly uniform: academia stifles intellectual freedom and has chosen woke politics over the pursuit of the truth.
Boghossian said his university had "transformed a bastion of free inquiry into a Social Justice factory whose only inputs were race, gender, and victimhood and whose only outputs were grievance and division."
"I was fired," Bo Winegard wrote May 4 in Quillette, "because I spoke and wrote openly about human psychological variation."
"I'm a professor, retiring at 62 because the Woke takeover of higher education has ruined academic life. 'Another one?' you ask?" Manson wrote.
Jordan Peterson: "We are now at the point where race, ethnicity, 'gender' or sexual preference is first, accepted as the fundamental characteristic defining each person … and second, is now treated as the most important qualification for study, research and employment."
The universities may have eliminated their jobs, but at least they've inspired a generation of eloquent critics.
We are beginning to learn whether they will successfully inspire anyone with the power to fundamentally reform the universities, or even to build them anew.
MORE: Students praise new University of Austin program featuring canceled professors, lots of debate
IMAGE: DukeEthics/YouTube
Like The College Fix on Facebook / Follow us on Twitter