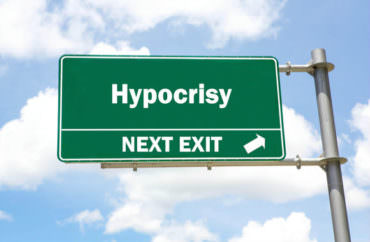 Remember when I said progressive-pushed policies like "restorative justice" don't apply to certain people — especially whites and conservatives?
Billed as an alleged alternative so-called "punitive" punishments like suspension, restorative justice involves stuff like chatting about what ails you and then promising to do better.
For example: Counselor: "I understand you were upset that you ran out of Frosted Flakes for breakfast, Johnny — but it's not polite to tell your teachers to 'f*** off,' ok dear?"
Even liberal teachers hate it because, just like big-city criminal law "reforms" that have led to massive surges in crime, restorative justice sends the message to kids that they can get away with virtually anything.
But whites and right-leaning individuals are largely exempt from restorative measures … due simply to those attributes. Which, of course, progressives despise.
A white student student who makes a racial pun, for example, still needs punitive punishment. Ditto white academics who question various incarnations of "racism."
And don't forget when the Syracuse University student paper had complained about the "minimally punitive punishments" that Syracuse police officers had received for various misconduct complaints.
An incoming student at Princeton recently opined that a recent graduate shouldn't have been granted his degree because he's a January 6 "insurrectionist."
Late last month, Larry Giberson pleaded guilty to "civil disorder" due to his activities on January 6 where he, according to the federal government, helped coordinate a "'heave-ho' pushing effort" and yelled "drag them out!" re: attending Capitol police.
Giberson originally was charged back in March (yes, the DOJ was on the matter for over three years!), and while his case was working its way through the usual legal channels, he graduated from Princeton in the spring.
For Princeton student Frances Brogan, this is an abomination.
"[Giberson] posed a significant threat to public life when he was part of a mob that stormed the Capitol and exhibited perverse values when he cheered at attacks on Capitol police officers," she hyperbolically exclaims.
"Giberson's behavior clearly implies that he believes in lies and is willing to violently act on them, violating Princeton's code of conduct and demonstrating that he does not understand Princeton's emphasis on principled civic engagement. Because of this, the University should not have awarded Giberson a diploma."
MORE: Professor: Educators should teach January 6 was a 'case study in white privilege'
Brogan's over-the-top diatribe continues: Giberson exhibited a "fundamental misunderstanding of political truth and lies," a "den[ial of] objective facts through his participation in a riot that revolved around an insidious conspiracy theory," and "attempted to overthrow the American government."
Not to mention, he violated provisions of Princeton's Rights, Rules, Responsibilities manual.
She also says Joe Biden losing in 2020 is an "unequivocally false contention."
Like those who had engaged in a hazing incident this past year, Princeton should have withheld Giberson's diploma for his "engag[ement] in political violence."
So, it is vitally important to follow Princeton school policies … except the school's Undergraduate Honor System which is akin to the U.S. criminal justice system in that it "enact[s] violence against minority populations." Or when a (Princeton) professor uses a racial epithet in a purely educational context. (Brogan claims Princeton is "admirably dedicated" to free speech.)
Reverence for law enforcement is of paramount import when it comes to election controversy or when students want to be protected from "hate speech"; otherwise police forces should be dismantled and verdicts condemned.
And of course there's the results of progressive criminal justice "reform" in the name of "racial" and other types of "justice." Such as a black man getting no jail time for blow torching several Asian UC Berkeley students.
And how about the group at Tufts University who want prisoners to be able to get a degree at their school? Or the Iowa State students who were cheesed the school purchased furniture made via "modern day slavery," aka prison labor?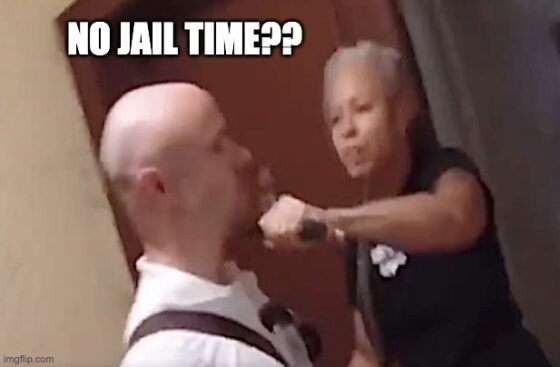 And remember the Hunter College adjunct who held a machete to a journalist's throat (pictured)? She might not get any jail time.
A Guilford College display perhaps personifies this entire mindset best — that prisons (along with sports and apparel stores) are nothing but manifestations of "straight and cis privilege." Or something.
And Giberson is a "significant threat" to the public … in part because of his "perverse values"? Please.
Don't misunderstand all this as a defense of Giberson's actions. It is not. What it is is a demonstration of the Left's beyond-brazen hypocrisy. It also is a warning that concepts such as CRT, critical race theory, are not about social justice but retributive justice. Which is unsustainable — that is, if you want to maintain a unified country.
The great South African thinker Stephen Biko realized this. "Some day we'll be the damn system in this country," he said in "Cry Freedom." "A lot of us are going to die for nothing if our system turns us into nothing but black versions of theirs … a bent policeman is a bent policeman … he breaks the same heads for the same reasons."
MORE: Students sue for 'adequate' civics education; claim Jan. 6 was result of lack thereof
IMAGE: northallertonman/Shutterstock.com
Like The College Fix on Facebook / Follow us on Twitter